A Value Growth Engine
Highlights
Deposit with high-grade and widespread mineralization within a 2.2 km strike with a large, shallow historic 43-101 compliant Mineral Resource
Gold mineralization is open in every direction with minimal drilling at below 300m depth. The few holes drilled to depth in 2022 encountered high-grade mineralization.
Drill results include high-grade intercepts such as 129.79 g/t Au over 1.3 m, including 561 g/t Au over 0.30 m.
An extensive drilling and sampling database has outlined a clear path for prioritizing high-grade growth in Renegade's expansion drill program.
Technical Details
The Newman Todd structure is a highly altered and deformed stromatalite which has been mineralized in multiple phases. The structure extends over 2.2 km and to a depth of 300 m, beyond which has not been drill tested.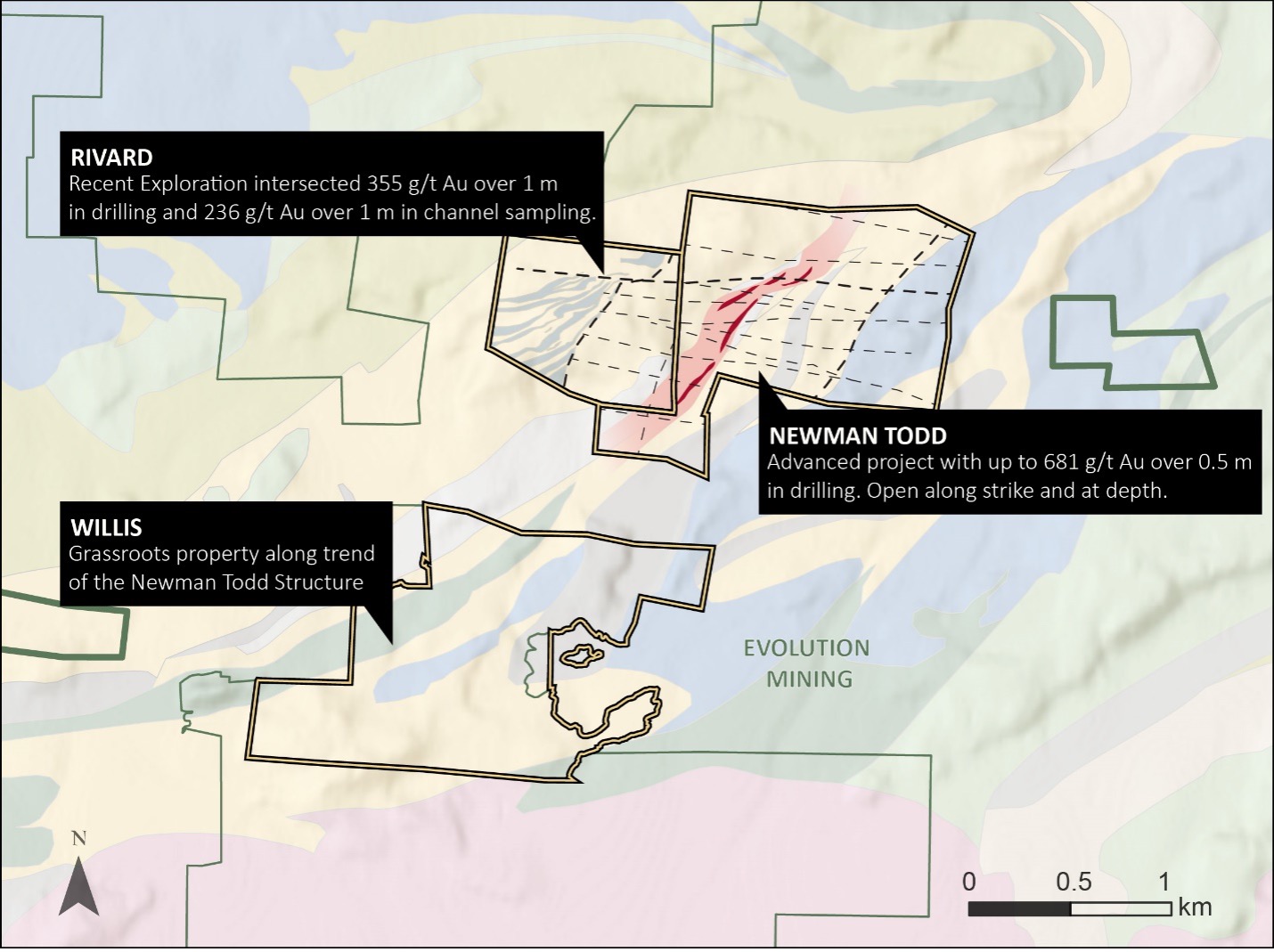 With a modern understanding of the mineralization constraints, exploration of the Newman Todd property has expanded beyond the historic footprint and identified significant mineralization in new and exciting zones. 2022 step out drilling encountered significant gold mineralization in the hanging wall.
The adjacent Rivard property has wide-spread gold mineralization identified in drilling, channel sampling and mapping. Recent channel sampling has returned up to 236 g/t Au over 1 m.
| Property | Hole | Length (m) | Au (g/t) |
| --- | --- | --- | --- |
| Newman Todd | NT-073 | 0.5 | 242 |
| Newman Todd | NT-083 | 0.6 | 343 |
| Newman Todd | NT-114 | 0.5 | 681 |
| Newman Todd | NT-123 | 0.5 | 158 |
| Newman Todd | NT-148 | 0.5 | 342 |
| Newman Todd | NT21-194 | 0.5 | 294 |
| Newman Todd | NT22-211 | 0.3 | 214 |
| Newman Todd | NT22-212 | 0.3 | 549 |
| Rivard | RV_02_03 | 1 | 355 |
| Rivard | RV_03_07 | 0.3 | 411 |
| Rivard | RV21-29 | 0.3 | 561 |
| Rivard | EE-06-8 | 0.3 | 275 |
| Rivard | EE-06-8 | 0.8 | 274 |