Advanced Drill Ready Targets in Strategic Areas
Highlights
Unique strategic location comprising 16,900-hectares between the Great Bear Project (Kinross), Red Lake Operations (Evolution) & Madsen Mine (West Red Lake Gold Mines)

Multi-kilometer gold-bearing trend at that Claremont target where surface sampling has discovered continuous zones up to 60 m long & 50 m wide and multiple similarities to mineralization at Great Bear Project

Widespread, near-surface gold trend spanning 600 m at the Faulkenham target within Madsen-Dixie corridor

High-grade surface samples at the Boyden target including 126.5 g/t Au (grab) and 23.3 g/t Au (grab) and 13.4 g/t Au over 0.3 m (channel)

Successful sampling and surveys at the Gullrock target with gold anomalies coincident with folding in an underexplored area of the Balmer Assemblage
Technical Details
The Red Lake Gold Property is a 16,900 ha land package strategically located between the Madsen Mine, Kinross' Dixie Project, and Evolution Mining's Red Lake mines. It is located on the contact between the Balmer and Confederation assemblages, a structurally complex area with huge mineralization potential as demonstrated by the Dixie discovery.
Recent work on the property includes 79 drillholes totaling 26,719 m and the collection of 1,011 surface samples. Magnetic, Lidar, IP, VLF/EM and 2D seismic surveys have also been completed. Recent exploration efforts combined with an expertly compiled, historic data set have highlighted high priority, drill ready targets.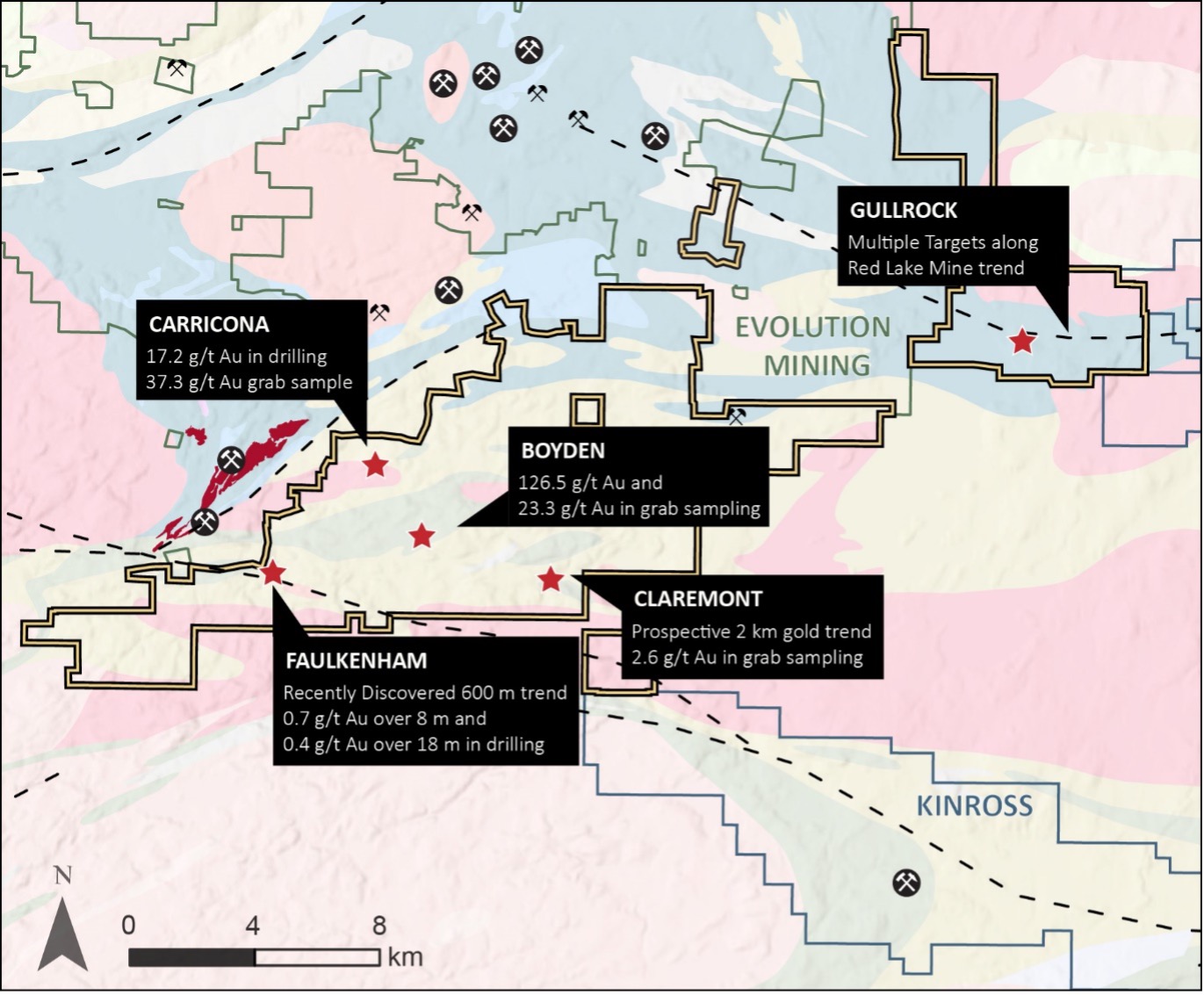 CLAREMONT
Widespread anomalous gold up to 2.6 g/t Au in grab samples has been exposed in 50 m by 60 m stripped outcrop
On 2 km magnetic trend within felsic volcanic rocks of the Confederation assemblage. Multiple similarities to Dixie deposit.
FAULKENHAM
600 m trend of widespread, near-surface gold mineralization within the Madsen-Dixie corridor, open along strike and at depth
BOYDEN
Channel sample of 13.4 g/t Au over 0.3 m. Grab samples include 126.5 g/t Au and 23.3 g/t Au
GULLROCK
underexplored part of the Balmer assemblage with gold-in-soil anomalies and apparent folding identified in magnetics
GOLD CENTRE
Gold Centre is a strategically located property along the Red Lake mine trend. It is adjacent to Evolution Mining's Campbell-Red Lake Mine which has produced over 25 M ounces of gold at an average grade of greater than 15.6 g/t.
The project overlies the interpreted unconformity between the Balmer and Huston assemblages which hosts several mines in the region, and Balmer volcanics which are a common host lithology to mineralization have been intersected in drilling.
Using prospecting, drilling, and IP geophysics, high value targets have been identified for Gold Centre both on surface and at depth.